Back to nature
Huts restaurant yoga ayurveda
Twenty-two back-to-nature cabanas
Stay under the canopy of this two acre coconut grove in one of twenty two back-to-nature cabanas. No two cabanas are alike. Fashioned from local materials like rice straw, and bamboo, the cabanas are built to include trees, leaves, and to let you see the moon and star-filled skies. The living areas combine a rural feel with a surprising degree of comfort.
There are a range of tariffs you can choose from depending on your budget, requirements, the time of year, and length of stay. We have a range of bathroom facilities and the majority of the cabanas have attached bathrooms. Those not having directly attached facilities have a reserved private bathroom a few paces away. If you have been before you are welcome to pre-book your preferred location, or take a chance with our selection for you.
Our rates depend on the season and vary with room type. Long stay prices are also available. Get your quote by specifying your needs and dates emailing us at: bhaktikutir@gmail.com
Media reviews
Phone
+91-9823627258
+91-832-2643469
Location
296, Colomb, Palolem, Canacona – Goa, India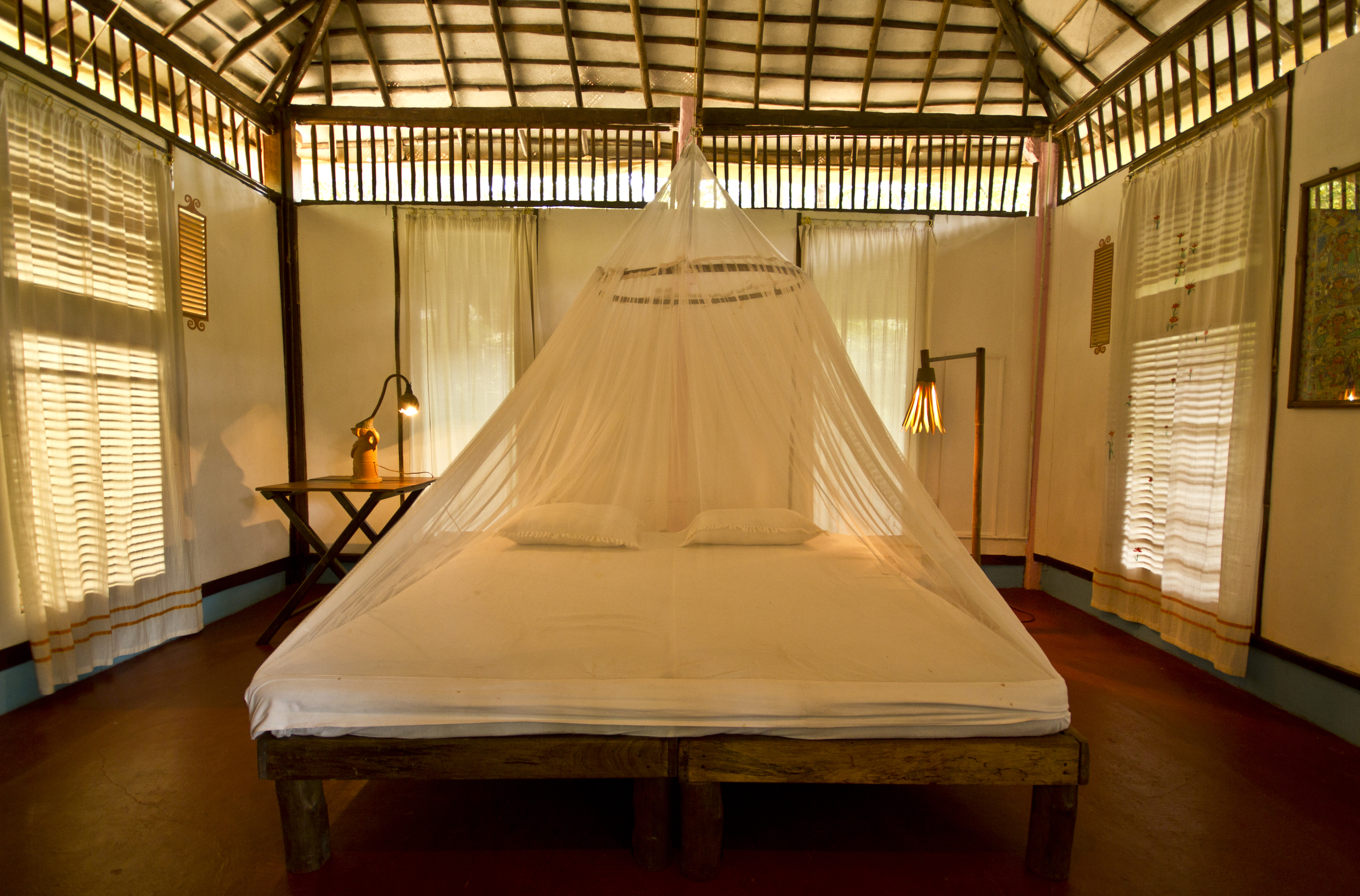 Set underneath swaying coconut trees
Our restaurant is set underneath swaying coconut trees above Colomb village, at the south end of Palolem beach. The restaurant is primarily vegetarian, and it also offers a good range of vegan, and gluten-free options. It is open all day until late serving wholesome, and whenever possible, organically produced food and drinks for visitors and staying guests alike.
Fresh, local, seasonal food is always chosen and carefully cleaned and prepared to produce the menu items, and where possible food is gluten free, and definitely GM free. Daily specials are available offering a range of dishes to cater to customers of all tastes and health requirements.
The juice bar offers the most extensive range of juices, (organic wherever available) in the area. We do our best to offer innovative, genuine, wholesome, healthy and tasty food throughout the day. Last orders are normally around 10 pm.
Our daily yoga and meditation classes
Join our teacher Sunita Singh for a yoga experience of your choice
Sunita's yoga and meditation classes are designed to give you health and wealth of body, mind and spirit as you come into harmony with yourself, allowing you to be YOU.
see some of our Yoga Packages
Pick your arrival and departure according to your schedule.
Sunita singh
Sunita has been teaching yoga for many years. She learned yoga in the early 90's in the ashram run by Swami Dhirendra Brahmachaari, who came to Delhi in the 60's and became a personal yoga teacher of Indira Gandhi, the future and only female prime minister of India. He was also instrumental in opening the door of yoga out to the public, as he maintained that yoga was for everyone, and was the only simple and spiritual form of life, beneficial to all mankind. Swami Dhirendra Brahmachaari also taught Russian astronauts and Yogi Bhajan, who later founded Kundalini Yoga. We are delighted to have her teaching our guests for a few years already!
Ideal for Yoga retreats
Bhakti Kutir is an ideal location for Yoga retreats and workshops, and hosts them regularly. We offer comfortable accommodation, healthy food and ayurvedic treatments.
In addition to the space used for the regular daily classes, we have 2 additional yoga spaces, so your workshop or retreat can be accommodated easily alongside our existing programme.
Please check out our Events section for information on all upcoming events.
HOST A WORKSHOP
If you are a teacher interested in running a retreat here please contact us directly and we can discuss a range of ways we can work together.
Contact us at bhaktikutir@gmail.com
Kailas Ayurveda Center
Kailas is the traditional Ayurveda and naturopathic clinic located in Bhakti Kutir. The center aims to encourage mental and physical harmony to re-establish health. A healthy body and healthy mind ideally should be the aim of any medical system. Kailas center presents time–honored Kerala ayurvedic remedies for you. All treatments are conducted by experienced therapists.
Contact
+91 8411094108
+91 9823595891
kailasayurvedapalolem@gmail.com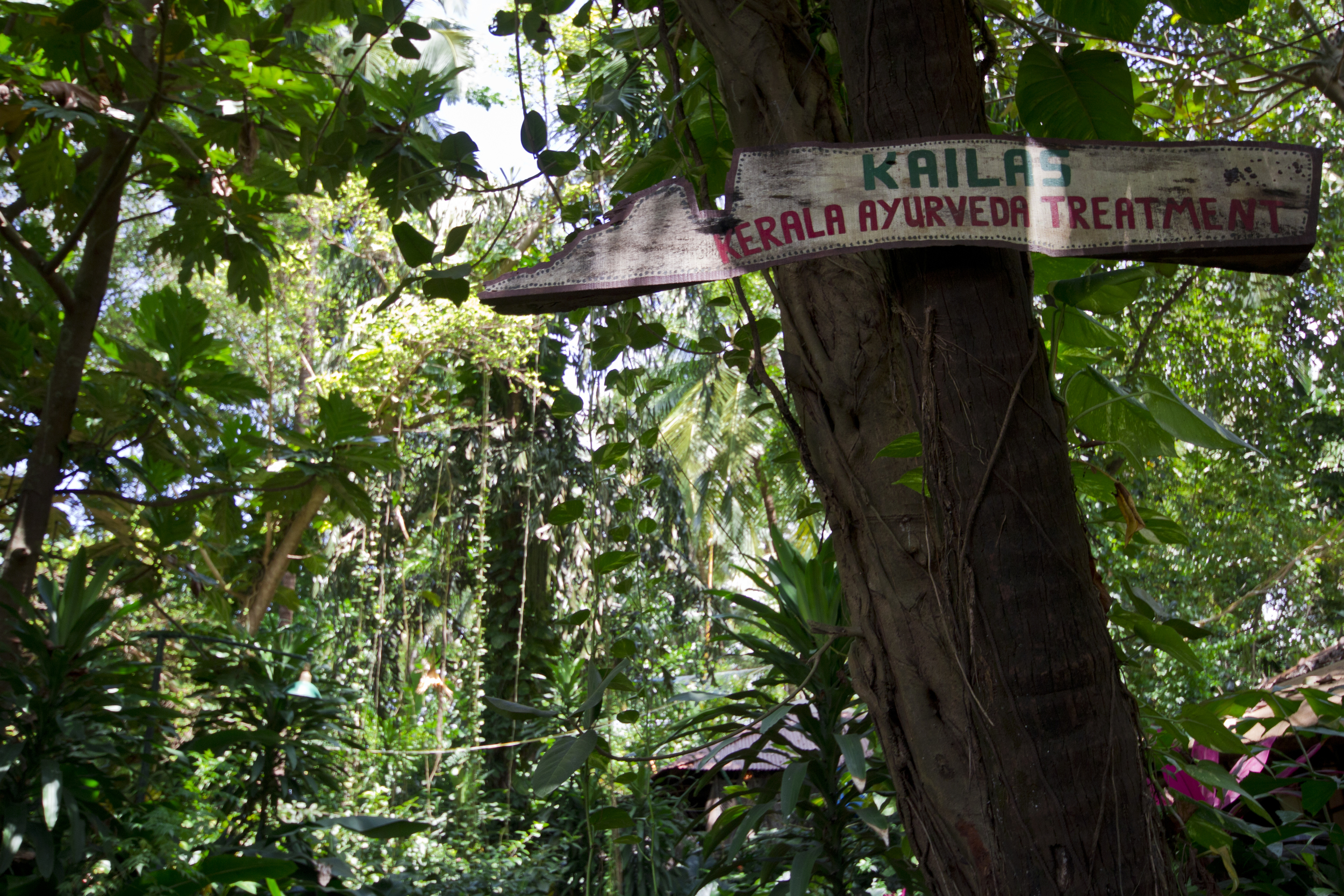 ADDRESS
296, Colomb, Palolem, Canacona, Goa - 403702
India
Phone
+91-832-2643469
+91-832-2643472
+91-9823627258
email
bhaktikutir@gmail.com
social media